Looking for something to do in the city for New Years? Tired of long lines? Sick of shelling 100 dollar covers for the privilege of cramped dance-floors and overpriced drinks? Determined not to repeat the same mistakes as last year? Then ring in 2008 in style while riding your bike!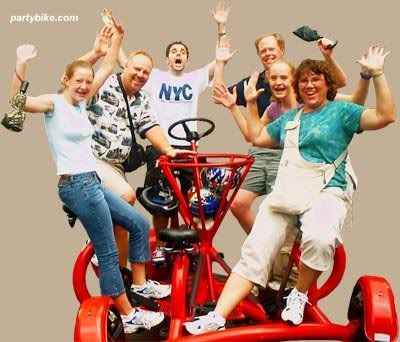 Voted the #1 Best Free New Years Eve Event in Manhattan, the Times Up! New Years Party Ride will start at 10:30 PM under the arches in Washington Square Park (BKLN&Queens meetups too!), and end up at Belvedere Castle in Central Park by midnight...directly under the city fireworks~ Booyah!


If you have something better to do than party in a freakin' castle under the country's biggest freakin' fireworks display, please let us know.

Straight from our friends at X-up:
" Start the year off right- on your bike! Come celebrate New Year's Eve in the great outdoors with Music! Dancing! Fireworks! and Great Merriment! Now joined by the RUDE MECHANICAL ORCHESTRA! We'll be riding up to Belvedere Castle for the best (and free!) New Year's Eve dance party in town! Dress festive- don't forget your noisemakers and party favors- bring food and drink to share!"
See you there in 08!