For those of you that have come out of food comas to do your holiday shopping, get away from the mall madness and break in your gold card on Madison Avenue or in Beverly Hills.
There, amongst the bejeweled bidet scrubbers and silver platters for your fancy bacon-wrapped hor'dourves, you will find the BBC/Ice Cream collaboration bike built exclusively for Barney's NY.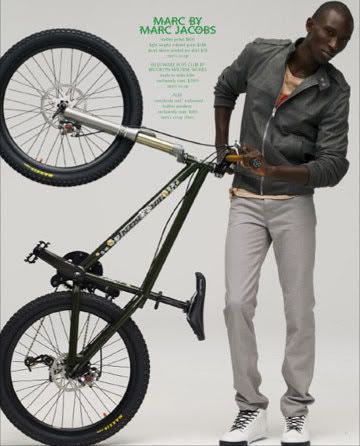 [Edit: personally, we think the ad looks better like this]
Built with the best offerings from FOX, Hope, and Thomson, the bike is topped off with some custom milled parts from our CNC that aren't available anywhere else. Shipping included with your purchase, Marc Jacob jacket model not included.
Check out BNQT for decal details. Email bmw@brooklynmachineworks for the full spec.
If you're looking for other bike related gifts, note that we're taking pre-orders for the Gangsta Track, which which will be back in production mid-December. Meanwhile we'll be busy making the SR6, which is now available in stock colors and several custom flavors like this burgundy frame, set up with Saints and a DHX 5.0 for big urban riding.